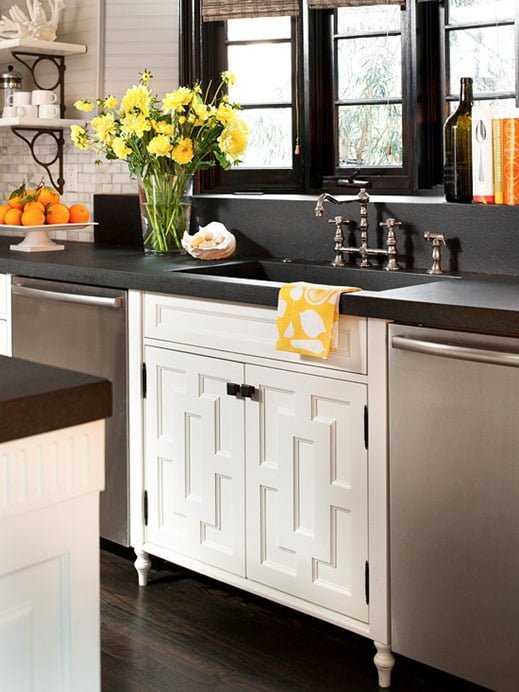 Kitchen cabinets rarely come with pulls or knobs so it's a big decision left to the homeowner to choose a style and finish that works with the space.  A reader recently wrote to me asking about the process of choosing kitchen cabinet hardware.  Here are a few tips for making the final choice.
Contemporary kitchens look best with streamlined pulls, and sleek tubular or rectangular options are a perfect complement for this modern style. Old World inspired hardware works well in traditional or European style kitchens.
It's important to consider the finishes on the light fixtures and appliances in the space.  There's no need to match every finish, you can mix chrome with brushed nickel, or oil rubbed bronze with brass, just be sure the finishes will complement each other.  With white kitchen cabinets, the good news is that any of the available finishes for knobs and pulls will always look great!
Glass knobs are an often overlooked but stylish choice.  If you're seeking to inject a dose of glamour in a kitchen, glass knobs are a classic option that also provide a little sparkle or playful color. With painted cabinets, just about any finish on hardware will look right.  Oil rubbed bronze, pewter, brushed nickel, and chrome are all classic finishes for colorful kitchen cabinets. The same is true for wood cabinets as well.  Choose pewter or chrome, oil rubbed bronze or nickel, even brass is making a comeback as a choice for kitchen hardware.
One no fail solution is to coordinate the finish on the hardware with the finish on the appliances.  Oil rubbed bronze or black knobs look fantastic with black appliances just as brushed nickel pulls work perfectly with stainless steel appliances.
It's perfectly fine to mix styles of hardware too, and in those circumstances you can't go wrong when you keep the finishes consistent.  In this classic kitchen, brushed nickel bin pulls on drawers are mixed with sleek contemporary pulls on the refrigerator panels.  If cabinet hinges are exposed, your hardware should share the same finish to keep the look cohesive. When hunting for hardware for your kitchen, the most important thing is to make choices that work with the style of your space, the appliances and fixtures, and to make selections that you will love for years to come.
Igrab.com.au is an online handles and knobs store established in 2012 based on Sydney NSW, which is developed for those who are looking for handles and knobs for their homes or a renovation option. Here at igrab we pride ourselves on quality products, personal service and variety regardless of your budget or needs. https://www.igrab.com.au
Article from: http://www.bhg.com/blogs/centsational-style/2012/09/02/choosing-kitchen-cabinet-hardware/