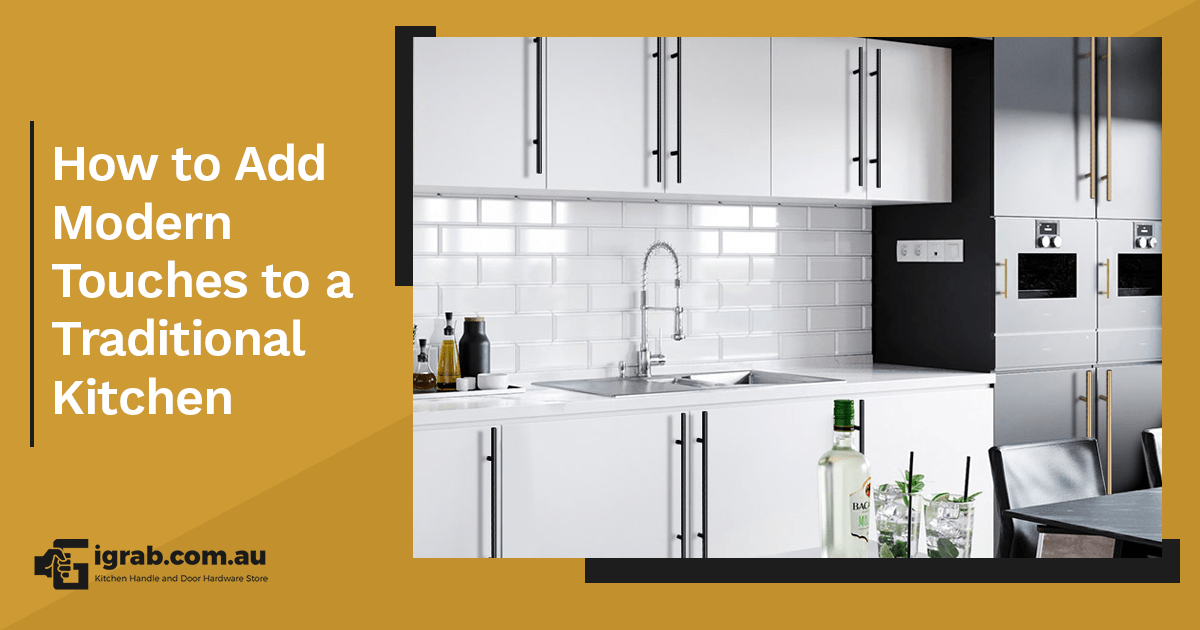 You like to modernize your kitchen but you can't fully commit to saying goodbye to your traditional kitchen just yet. So how do you make this happen? How can you converge both worlds and make it work and not look too forced in your kitchen design? This is actually very possible (and highly encouraged especially when you're on a budget!)–when you artistically blend contemporary elements into a traditional setting, you're embracing a juxtaposition that makes for a relaxed yet eclectic space. 
Let the parts of your traditional kitchen remain and have contemporary accessories and hardware add new life into it without dissolving all the culinary memories and all the in-betweens you've made throughout the years. 
Tie the look of your old furniture with new elements  
Your old cabinets could serve many purposes for your revamped kitchen. You can tie the look to the contemporary vibe by having some similar elements for both sides. If it has space on top, you can add some decorative crockery and other items that are a mix of traditional and contemporary. 
Have a cohesive color scheme 
Not everything in the kitchen has to be matchy-matchy and perfect. In fact, there's a certain charm to having mismatched colors, as long as they belong to the same color scheme and that you're consistent in following these colors. What's great about colors like black, brown or white is that they are timeless. They are as loved today as they were back in the days. You can decide on choosing neutral colors that transcend time so you can successfully match both traditional and contemporary elements together. 
Don't be afraid of displaying your vintage collections
 A carefully curated display of eclectic pieces brings a homely feeling to a modern, minimalist area. So take out the china sets and other vintage treasures that have been handed down to you. You can make it work by organizing them in an open shelf with a white backdrop. As you add in the antiques, collectibles and other sentimental hand-me-downs, you will slowly see a vintage, rustic display right in your newly-made contemporary space. 
Accessorize your old furniture with contemporary kitchen hardware
Smooth-to-the-touch frosted black handles for a sophisticated finish for your old cupboards, cabinets, drawers and doors? How about brass mushroom knobs? Or artsy rectangle knobs? Yes please! You can add the perfect contemporary touch to your old cabinet fixtures by simply paying more attention to the hardware. This is such an effective yet cost-efficient trick all designers swear by! 
How would you add a more contemporary vibe to your traditional kitchen?